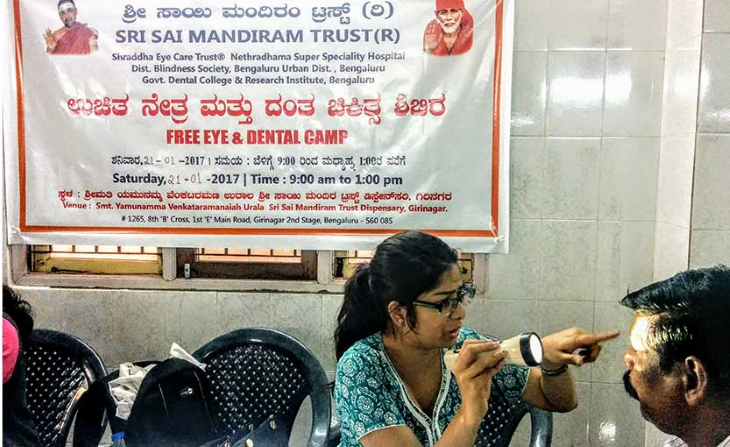 In 2003, Sri Gopala Baba established a temple in Girinagar, South Bengaluru, which he named Sri Sai Mandiram. He also established a free clinic in a 3 storeyed building next to the temple. Here, under the aegis of the trust, free treatment and medicines were given to the poorer sections of the society who either lived or worked in nearby areas, and were unable to afford Medical, Eye or Dental check-ups in regular hospitals.
Also, here free Medical camps, Eye Camps and Dentals Camps are conducted on the last Saturday of every month. These camps have been conducted regularly, and till date more than 120 such camps have been conducted and thousands of patients provided free treatment, medicines, operations and spectacles.
In these camps, the Eye specialists attend to screening of the eyes, and for cataracts which are referred to local hospitals which is also carried out free of cost. The eye specialists also attend to other disorders such as allergic reactions, conjunctivitis and other infections. Patients are provided relevant medication and eye drops. Both testing and spectacles are provided free of cost. Dental camps include Dental check-ups by well qualified Dentists and also include fillings as well as scaling of teeth to prevent gum disease. Instructions to the patients with respect to the importance and maintenance of oral hygiene is provided.
Since 2019, a new Eye care OPD centre is being operated in the premises of the clinic by the Lions Club International district 317A Vaishnavi Lions Service Foundation Trust. The centre was inaugurated by Sri Gopala Baba on 9th June 2019.
For those who would like to Volunteer for participating in Social Service or Temple Activities, please contact the people mentioned in the Contact Us section. Thank You.